A cold November rain was falling as 1-year-old Kataleya pushed her tiny arms out of a tent and her plaintive crying pierced the gray afternoon.
Her father, Jesús, was just outside the tent. He reached down and wrapped her in his arms, pulling a small blanket around her shoulders.
Misery, desperation and love are languages that need no translation.
Members of the United Methodist Immigration Task Force — hailing from around the U.S. and Mexico — visited migrants living on a small street near the Paso del Norte International Bridge, which connects Juárez with El Paso. The visit was part of a three-day Immigration Summit held in El Paso, Texas; Las Cruces, New Mexico; and Juárez, Mexico.
The group walked to the bridge after leaving a nearby migration processing facility in Juárez. United Methodists volunteer their time at the center to feed and bring some relief to migrants suffering from the unrelenting waiting and worrying as they seek asylum.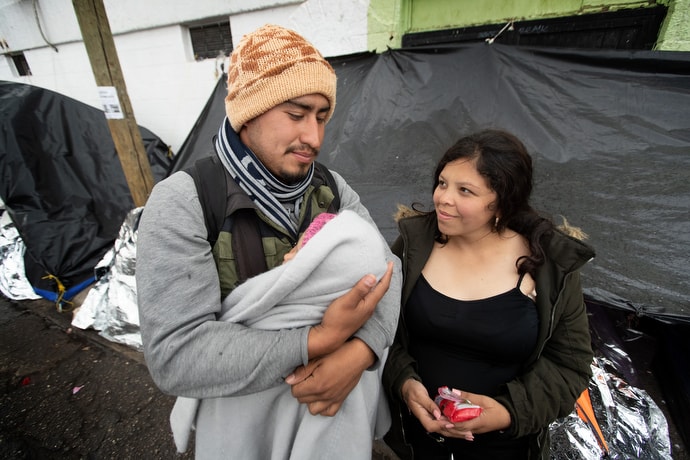 Migrants arrive with very few possessions. They are not prepared for the long wait. Churches and other organizations supply them with tents. Silver Mylar blankets donated by a United Methodist church dotted the bleak scene. Migrants were using the blankets to add another layer of protection from the rain.
Like many others in this makeshift camp, Jesús and his family are fleeing organized crime in Mexican states like Michoacán, Guerrero and Zacatecas or countries like El Salvador, Honduras and Guatemala. They came here to seek asylum in the U.S. and have been on this street for two months. Jesús' wife, Mariana, is pregnant.
Many migrants choose to live outside near the bridge, fearing that if they move they might lose their spot on the waiting list to interview with a border agent on the other side of the bridge.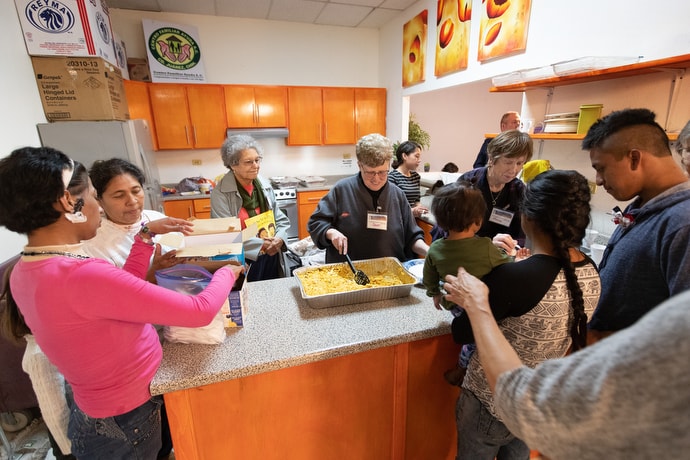 Meeting Nov. 21-23, the Immigration Task Force heard from two congresswomen and church leaders involved in work with migrants. One of the key things they heard was the hardship brought by the Trump administration's Migrant Protection Protocols policy, which is forcing migrants to remain in Mexico while waiting for asylum.
Triny Rivera, shelter manager of El Calvario United Methodist Church in Las Cruces, explains that people walk to the bridge every day hoping for their number to be called.
"They get sent back to wait," she said.
Sometimes as many as 20 migrants are called, other times just one.
"We try to provide humanitarian service; we try to treat people the way we would want to be treated," Rivera said.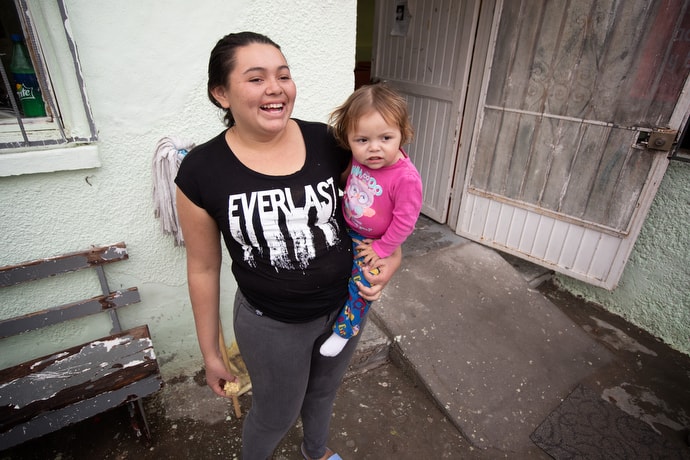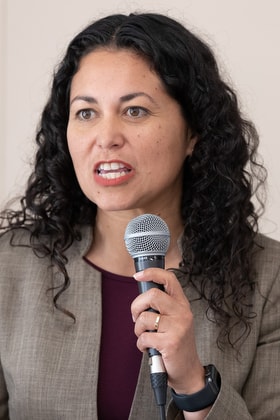 Cynta Torres, a member of the El Calvario team, is a retired teacher and her passion is teaching the children. Today she is trying to urge the people to come inside, but no one wants to join her.
"They are saying no, they are miserable and wet. They were miserable last night because it was pouring down rain. A lot of them are sleeping," Torres said. "I thought I could bring books to them and they could have a special day of reading."
Cynta's daughter, U.S. Rep. Xochitl Torres Small, a New Mexico Democrat, spoke at a lunch held for the summit at Morning Star United Methodist Church in Las Cruces.
Torres Small pointed out that she is the only member of the Homeland Security Committee who represents a district along the U.S./Mexico border. She has been critical of the Migrant Protection Protocols, saying that forcing people to wait in dangerous conditions only compounds the crisis.
"I'm so proud of the communities that have responded to that call to help serve their neighbors, but I'm so disappointed in our government that we haven't been able to find a broader solution," she said.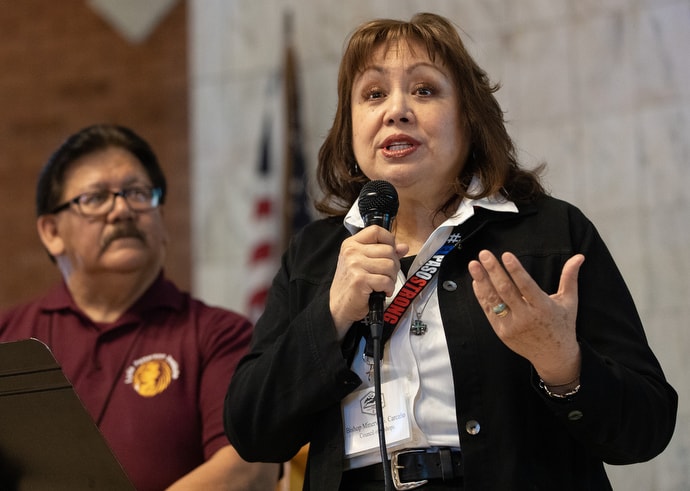 She urged the members of the task force to share the stories of what they had seen across the border. The church has a unique way to reach people by appealing to them from a sense of faith and service, she said.
Torres Small spoke about attending a hearing on the protocol policy and seeing both sides troubled by the harsh realities of asylum seekers.
"It was incredibly partisan, but I watched members on the other side of the aisle get visibly frustrated and sad about what was happening to people who were waiting in Mexico," she said.
Most of the task force meeting was held at the Lydia Patterson Institute, a United Methodist college-preparatory school that has been in existence for more than 100 years. Patterson was a Methodist laywoman who noticed young Hispanic boys in the neighborhood had no school to attend.
Click here to read more.
SOURCE: United Methodist News