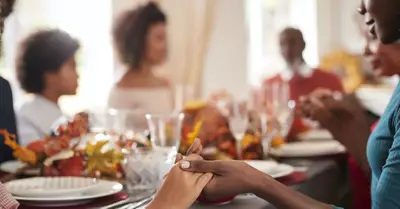 Don't over look the power of Thanksgiving prayers as you gather around the dinner table. Thanksgiving is a wonderful time to gather with family and friends and reflect on the blessings of the last year. Many of us experience renewed hope and faith during the Thanksgiving holiday because we turn our eyes onto what is most important. When your heart is filled with gratitude, there is little room to worry or complain. Set aside some time to thank God and reflect on the blessings that surround you.
This year's celebrations on Thanksgiving Day may look different. Your heart may be aching for family members that cannot visit or for the loss of a loved one. God wants to meet us in our pain and disappointments. Through prayers of thanks and gratitude, we are able to experience the true meaning of thanksgiving. You can still use these prayers personally or share them with your friends and family, even if you cannot share these prayers around the dinner table this year.
We would love to encourage and help you along the way toward greater hope and joy! Let this year be the year you experience the blessings of living in gratitude. Below are our favorite thanksgiving prayers you can use not only for Thanksgiving day but throughout the year. Start living out the promises of God that Jesus came "that they may have life, and have it to the full." John 10:10.
A Thanksgiving Day Prayer
O Heavenly Father: we thank Thee for food and remember the hungry. We thank Thee for health and remember the sick. We thank Thee for friends and remember the friendless. We thank Thee for freedom and remember the enslaved. May these remembrances stir us to service. That Thy gifts to us may be used for others. Amen. – "Dear Abby" Columnist
Click here to read more.
SOURCE: Crosswalk, Jennifer Heeren