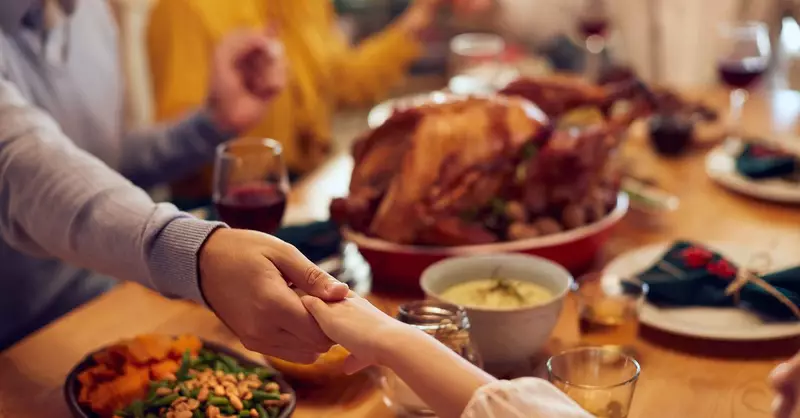 I love the holidays, but if I am completely honest, it is a struggle not to let the cooking, celebrating, event planning, and gift buying consume me! As a Mom, it is hard to press pause on the to-do list that goes along with big family celebrations and be present during this special time of year.
Even if you aren't in the crazy throws of motherhood, other burdens can make enjoying this time of year difficult. Many of us experience grief as we deeply miss loved ones who are not with us this season. Others battle loneliness, broken hearts over family divisions, or are just struggling to make ends meet. These burdens and more can get in the way of us engaging with our loved ones this Thanksgiving.
Ultimately, we have to go to the only one who is big enough to carry our burdens if we are to gain the capacity required to find joy in our relationships. Take time to go to the Lord in prayer, asking him to give you the peace, healing, and strength that you need to be present this Thanksgiving!
1. A Prayer for a Peaceful Present Mind
2 Timothy 1:7 – For God has not given us a spirit of fear, but of power and of love and of a sound mind.
Father, allow me to capture every thought that would distract me from the joy unfolding in front of me this Thanksgiving. Empower me to be filled with love for my family and friends. Give me a sound mind that will allow me to focus on the things that matter most in my life.
Remind me to think on what is good, true, noble, right, lovely, and admirable (Philippians 4:8). Help me cast down any thought that would cause me stress, anxiety, or fear. I thank you for all the good gifts you have given to me.
I thank you that I can trust in you to direct my steps and that you promise to lead me on your straight path (Proverbs 3:5-6). Direct each of my steps. Grant me wisdom so I can live peacefully and with intentionality. Amen.
2. A Prayer for Grace While Grieving
Psalm 34:18 – The LORD is close to the brokenhearted and saves those who are crushed in spirit.
God, you know my heart. You know my hurts, pain, grief, and how much I need you to make it through this season. Be close to me as I navigate feelings of grief and loss. Remind me that you save those who are crushed in spirit. Allow me to be present, find joy, and experience your peace, even as I walk through the valley of the shadow of death.
God, I come to you because I know you are the one that can take my heavy burden and exchange it for lightness. I surrender my feelings of sadness and ask that you turn my mourning to dancing. Allow me the ability to enjoy this season, even while navigating my grief. I thank you for your gracious willingness to be near me in every season of life. Amen.
Click here to read more.
SOURCE: Crosswalk, Amanda Idleman