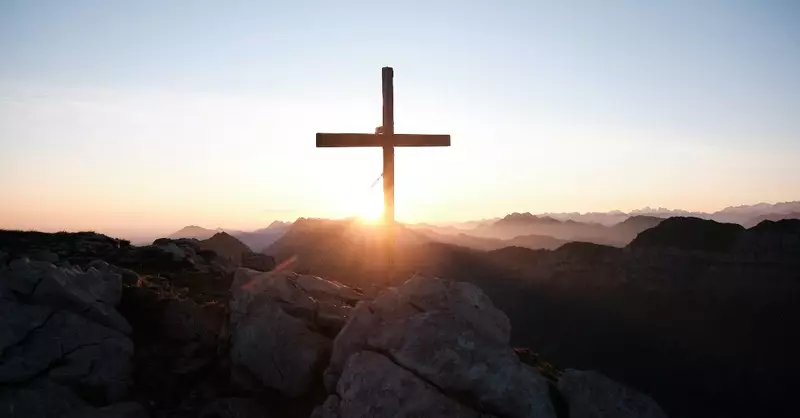 Pandemics, wars, and rising gas prices are enough to make anyone feel uncertain, anxious, and even fearful about the future. As believers, we might even hear ourselves saying, "Everything is so uncertain right now" when it comes to the nation's economy, the housing market, gas prices, our health, and the stability of this country and this world.
Yet God's Word is full of assurance that our future, as those who trust in Him, is hopeful and our eternal destiny is secured.
Ephesians 1 reminds us that not only were we chosen in Him before the foundation of the world, but we have an eternal inheritance waiting for us (verses 4, 11). That means God is on both sides of our destiny and everywhere in between. If we are worried about our provision now or in the days ahead, we learn in verses 13 and 14 that we are "sealed with the promised Holy Spirit, who is the guarantee of our inheritance until we acquire possession of it" (ESV). And certainly, if God can take care of our eternal life, he can take care of everyday life as well.
If you are in Christ (meaning you are trusting in the atoning death and resurrection of Jesus alone for your salvation), here are several scriptural passages to build your faith when the future looks uncertain.
1. A Reminder to Praise God When Life Looks Bleak
It's easy to look around us and think that in the drought (which could be physical, financial, moral, or spiritual), we are going to die along with everything else. But the Prophet Habakkuk assured the Israelites of God's redemptive power – something we can apply to our circumstances today. In Habakkuk 3:17-19, we have this reminder:
"Even if the fig tree does not blossom,
And there is no fruit on the vines,
If the yield of the olive fails,
And the fields produce no food,
Even if the flock disappears from the fold,
And there are no cattle in the stalls,
Yet I will triumph in the Lord,
I will rejoice in the God of my salvation.
The Lord God is my strength,
And He has made my feet like deer's feet,
And has me walk on my high places" (NASB).
2. Assurances of God's Continual Protection
Fear can overtake us when we fail to love – and therefore trust – God. But loving God perfectly drives out any fear (1 John 4:18 NIV). God is sovereign over all things and assures us in His Word that He will protect His own. God told His people He is not One to slumber or sleep (Psalm 121:4) and we don't need to fear what may be in front of us because He goes alongside us. In Isaiah 40:1-3 we read:
"But now, thus says the Lord, your Creator, O Jacob,
And He who formed you, O Israel,
"Do not fear, for I have redeemed you;
I have called you by name; you are Mine!
"When you pass through the waters, I will be with you;
And through the rivers, they will not overflow you.
When you walk through the fire, you will not be scorched,
Nor will the flame burn you.
"For I am the Lord your God,
The Holy One of Israel, your Savior"
In addition, Paul wrote this to the Romans to give them confidence in this same God who got him through numerous hardships, suffering, and near-death experiences:
"For I am sure that neither death nor life, nor angels nor rulers, nor things present nor things to come, nor powers, nor height nor depth, nor anything else in all creation, will be able to separate us from the love of God in Christ Jesus our Lord" (Romans 8:38-39 ESV).
With God's love encircling you and His hand protecting you, there is nothing to fear.
3. Affirmations that God Is Immovable and Unchanging
In Psalm 46:1-3 (NKJV) we read:
God is our refuge and strength,
A very present help in trouble.
Therefore we will not fear,
Even though the earth be removed,
And though the mountains be carried into the midst of the sea;
Though its waters roar and be troubled,
Though the mountains shake with its swelling."
In addition to this verse, we know from the New Testament that "Jesus Christ is the same yesterday, today, and forever" (Hebrews 13:7). While everything around us changes, ages, or declines, He does not. His purity, righteousness, mercy, and holiness stay the same.
4. Reminders of Our Provision and Inheritance
On days when you start to worry about your provision, you have promises, both in the Old and New Testaments, that remind you of not only your day-to-day provision, but your eternal inheritance.
In Psalm 16, David, who knew what it was like to be hunted and unfairly treated, wrote:
"The Lord is the portion of my inheritance and my cup;
You support my lot.
The measuring lines have fallen for me in pleasant places;
Indeed, my inheritance is beautiful to me.
 I will bless the Lord who has advised me;
Indeed, my mind instructs me in the night.
I have set the Lord continually before me;
Because He is at my right hand, I will not be shaken.
Therefore my heart is glad and my glory rejoices;
My flesh also will dwell securely
For You will not abandon my soul to Sheol;
You will not allow Your Holy One to undergo decay.
You will make known to me the way of life;
In Your presence is fullness of joy;
In Your right hand there are pleasures forever" (verses 5-11).
And in Matthew 6:25-33, Jesus told His followers: "Do not be anxious about your life, what you will eat or what you will drink, nor about your body, what you will put on… Look at the birds of the air: they neither sow nor reap nor gather into barns, and yet your heavenly Father feeds them. Are you not of more value than they? And which of you by being anxious can add a single hour to his span of life? And why are you anxious about clothing? Consider the lilies of the field, how they grow: they neither toil nor spin, yet I tell you, even Solomon in all his glory was not arrayed like one of these. But if God so clothes the grass of the field, which today is alive and tomorrow is thrown into the oven, will he not much more clothe you, O you of little faith? Therefore do not be anxious, saying, 'What shall we eat?' or 'What shall we drink?' or 'What shall we wear?' For the Gentiles seek after all these things, and your heavenly Father knows that you need them all. But seek first the kingdom of God and his righteousness, and all these things will be added to you."
Click here to see more.
SOURCE: Crosswalk – Cindi McMenamin